If you're into website building and blogging, you've probably heard about WordPress. It's an amazing platform that makes creating and managing websites super easy. But did you know that you can take your WordPress website to the next level with premium plugins? In this article, we'll explore the fantastic world of premium WordPress plugins that are worth investing in.
What Are WordPress Plugins?
Before we dive into the premium plugins, let's first understand what plugins are. Think of your website as a smartphone, and plugins as the apps you can install on it. These apps (plugins) help your website do all sorts of cool things, from improving its design to adding new features.
WordPress, by default, comes with some basic features. But if you want to make your website more unique, functional, and fun, plugins are the way to go!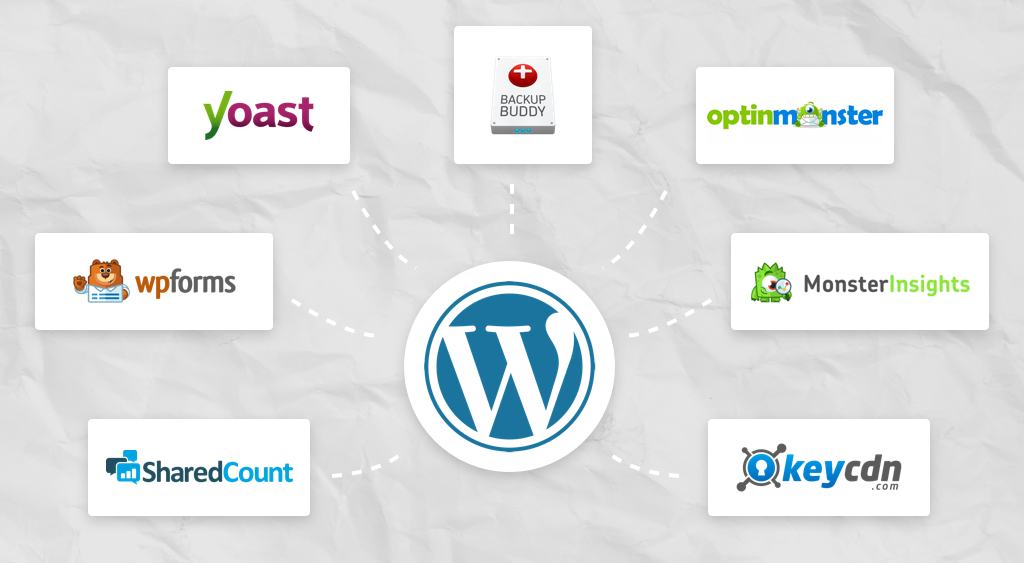 Why Invest in Premium Plugins?
You might be wondering, "Why should I invest in premium plugins when there are free ones available?" Well, that's a great question! Free plugins are fantastic, and many of them work perfectly. But premium plugins offer some added benefits that can take your website to the next level:
Extra Features: Premium plugins often come with advanced features and customization options that free plugins may not offer.
Regular Updates: Premium plugins are usually well-maintained with regular updates, ensuring compatibility with the latest version of WordPress.
Reliable Support: You'll have access to excellent customer support, which can be a lifesaver if you run into any issues.
Enhanced Security: Premium plugins often have built-in security features, helping to keep your website safe from cyber threats.
Now that you know why premium plugins are worth the investment let's take a look at some of the top ones you should consider.
1. Yoast SEO
Do you want your website to rank high on Google? Yoast SEO is here to help. It's like having a personal SEO (Search Engine Optimization) coach for your website. This plugin guides you on how to improve your content and make it more appealing to search engines.With Yoast SEO, you can easily add meta tags, optimize your content for specific keywords, and even get a readability check. It's a fantastic tool to boost your website's visibility and attract more visitors.
2. Elementor Pro
If you love being creative with your website's design, Elementor Pro is a game-changer. It's a drag-and-drop page builder that lets you create stunning and customized web pages without any coding skills.
With Elementor Pro, you can choose from a wide range of widgets, templates, and design elements to make your website look unique. This plugin is a real gem for those who want to take control of their site's appearance.
3. WooCommerce
Are you thinking about turning your website into an online store? WooCommerce is the go-to solution. It's a free plugin, but its premium extensions offer even more power.
With WooCommerce, you can set up an online shop, sell products, and manage orders with ease. It's a perfect choice for budding entrepreneurs looking to start their own e-commerce venture.
4. MonsterInsights
Do you want to understand your website's performance better? MonsterInsights is a must-have. It connects your website to Google Analytics, providing valuable insights about your visitors, their behavior, and where they're coming from.
With MonsterInsights, you can make informed decisions to grow your website and reach more people effectively.
5. Akismet Anti-Spam
Spam comments can be a real headache for website owners. Akismet Anti-Spam is your ultimate solution to combat spam. It automatically filters out spammy comments, ensuring that your website's comment section remains clean and safe.
This is an essential plugin if you want to engage with your audience and create a welcoming online community.
6. UpdraftPlus
Imagine spending countless hours creating content for your website, and then one day, you lose it all due to a technical glitch. That's a website owner's worst nightmare. But fear not, UpdraftPlus is here to save the day!
This premium plugin allows you to back up your website easily. You can schedule backups, store them in various locations, and restore your site if anything goes wrong. It's like an insurance policy for your website's content.
7. WPForms
If you want to create contact forms, surveys, or even collect payments on your website, WPForms is the way to go. It's user-friendly, and you can build forms quickly using the drag-and-drop builder. WPForms helps you interact with your visitors and gather information effectively.
8. Smush Image Compression and Optimization
Images can make your website look stunning, but they can also slow it down if they're not optimized. Smush Image Compression and Optimization is a plugin that automatically compresses and resizes your images without losing quality.
This means your website will load faster, which is excellent for user experience and SEO. It's an easy way to make your website more user-friendly and professional.
9. Sucuri Security
Keeping your website safe from cyber threats is crucial. Sucuri Security is a top-tier plugin for website security. It offers features like security monitoring, malware scanning, and firewall protection.
With Sucuri Security, you can rest easy knowing that your website is well-guarded against potential attacks.
10. LearnDash
Are you thinking of creating an online course or e-learning platform? LearnDash is a premium plugin designed for just that. It lets you set up and manage online courses, create quizzes, and award certificates to your learners.
With LearnDash, you can share your knowledge and even make a profit from your expertise.
11. Social Warfare
If you want to encourage your website visitors to share your content on social media, Social Warfare is a fantastic choice. It adds stylish social sharing buttons to your content, making it easy for readers to share your articles and boost your online presence.
Social Warfare also offers customization options, so you can make your sharing buttons match your website's style.
12. BackupBuddy
We've mentioned the importance of backups earlier, but if you want even more control over your website's backups, BackupBuddy is the way to go. It allows you to set up automated backups and store them on remote cloud services for added security.
With BackupBuddy, you'll never have to worry about losing your website's data.
13. Gravity Forms
Gravity Forms is an advanced form builder for WordPress. It's perfect for creating complex forms, surveys, quizzes, and more. With its conditional logic and user-friendly interface, you can create forms that suit your specific needs.
14. SeedProd
Do you want to create a stunning coming soon or maintenance mode page for your website? SeedProd makes it simple. With this plugin, you can design attractive pages that let your visitors know that something awesome is on the way.
15. CSS Hero
If you're into customizing your website's design even further, CSS Hero is a plugin that lets you edit your site's appearance without touching any code. You can easily change fonts, colors, and more, making your site truly unique.
Conclusion
In the world of WordPress, premium plugins can be the key to unlocking the full potential of your website. Whether you want to boost your website's SEO, enhance its design, improve security, or add new features, there's a premium plugin for you.
Remember, investing in premium plugins is like investing in your website's success. You'll get access to advanced features, regular updates, reliable support, and enhanced security. It's a smart move for website owners who want to stand out and provide the best experience for their visitors.
So, take your time to explore these premium plugins and choose the ones that suit your needs. Whether you're running a blog, an online store, or an e-learning platform, there's a premium plugin waiting to help you succeed in the exciting world of WordPress. Happy website building!
---
Frequently Asked Questions (FAQs)
What are premium WordPress plugins?
Premium WordPress plugins are additional pieces of software that you can add to your WordPress website to enhance its functionality and features. They are often developed by third-party companies and are available for purchase. Premium plugins offer advanced features, regular updates, reliable support, and enhanced security compared to their free counterparts.
Are premium plugins better than free ones?
Premium plugins offer several advantages, such as advanced features and reliable support, making them a great choice for those who want to take their website to the next level. However, free plugins can also be excellent, especially for beginners or for those with budget constraints. The choice depends on your specific needs and your willingness to invest in your website's success.
How do I install premium plugins on my WordPress site?
Installing premium plugins is easy. First, purchase the plugin from the official website or a reputable marketplace. Then, go to your WordPress dashboard, navigate to the "Plugins" section, click "Add New," and select the "Upload Plugin" button. Choose the plugin's zip file and click "Install Now." After installation, click "Activate" to start using the plugin.
Can I use premium plugins on multiple websites?
It depends on the plugin's licensing terms. Some premium plugins allow you to use them on multiple websites with a single license, while others require separate licenses for each site. Be sure to review the licensing details provided by the plugin developer before purchasing to ensure compliance.
Do premium plugins slow down my website?
The impact on your website's speed can vary depending on the specific plugin and how well it is optimized. Quality premium plugins are generally well-coded and optimized to minimize performance issues. However, it's essential to monitor your website's performance after installing any plugin and ensure your hosting and theme are also optimized for speed.
Are there refunds if I'm not satisfied with a premium plugin?
Many premium plugin developers offer a refund policy, but the terms can differ. It's crucial to review the refund policy provided by the developer before making a purchase. Some offer a money-back guarantee within a specific time frame, while others may have different conditions.
How can I ensure the security of premium plugins?
To ensure the security of your website, only purchase premium plugins from reputable sources and official websites. Avoid downloading premium plugins from unverified sources, as they may contain malware or be tampered with. Additionally, regularly update your plugins to benefit from the latest security patches and features.
Are there free alternatives to premium plugins?
Yes, there are often free alternatives available for many premium plugins. These free plugins may offer basic features, but they can be a good starting point. If your website's needs grow, you can consider upgrading to the premium version to access more advanced features and support.