In the digital age, having an online presence is crucial for businesses and individuals alike. A well-designed website can help you reach a wider audience, promote your products or services, and establish credibility in your industry. However, when it comes to creating a website, you have two primary options: using a website builder or hiring a web developer. Both approaches have their advantages and drawbacks, and choosing the right one for your needs is essential. In this article, we will explore the benefits of using a website builder compared to hiring a web developer.
The Rise of Website Builders
Website builders have gained popularity in recent years, allowing people with limited technical expertise to create professional-looking websites quickly. These platforms offer a range of templates, design tools, and features that simplify the web development process. Let's delve into some of the key benefits of using a website builder: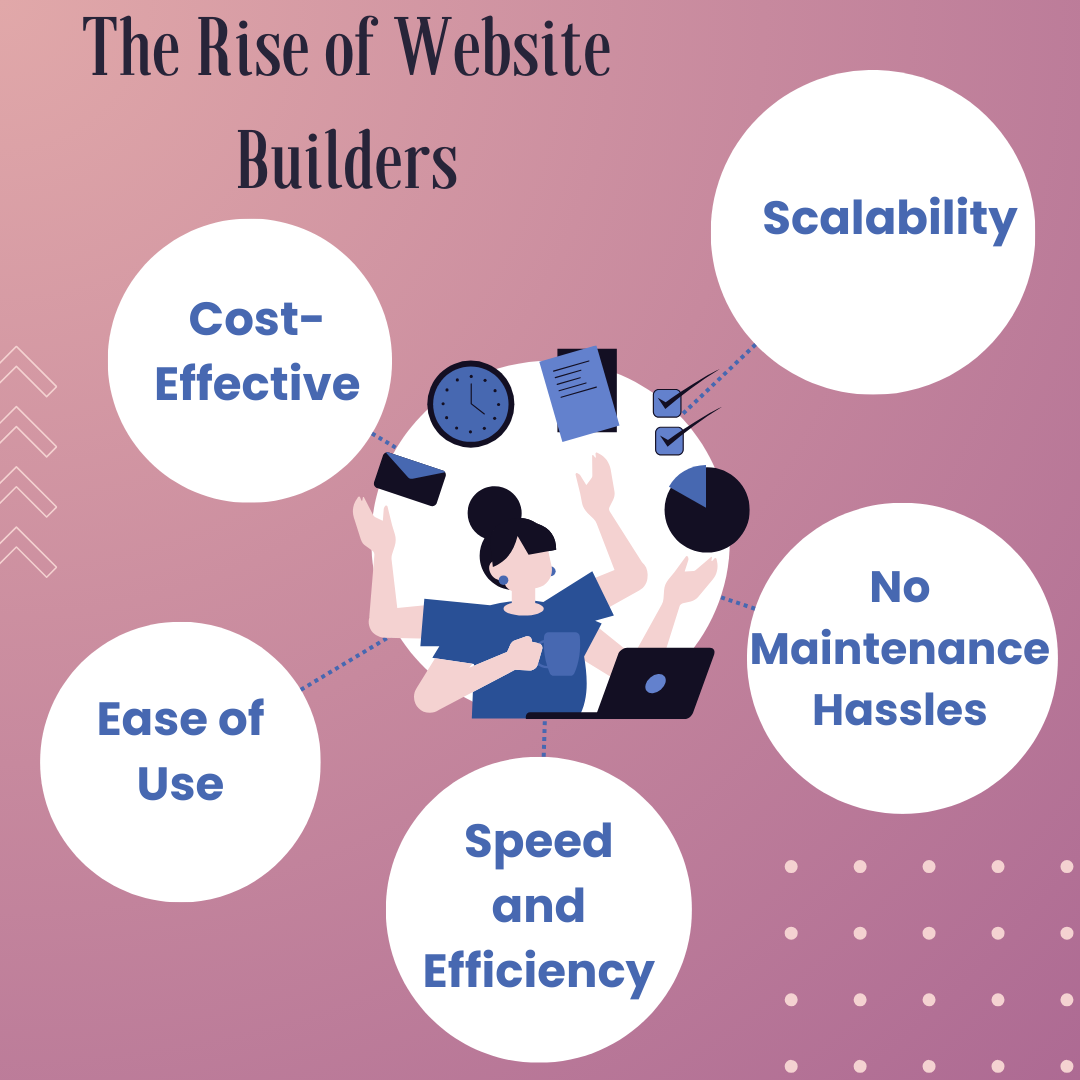 1. Cost-Effective
One of the most significant advantages of using a website builder is cost-effectiveness. Hiring a web developer can be expensive, especially for individuals or small businesses with limited budgets. Website builders typically offer free or low-cost plans, making them an affordable option for creating a website.
2. Ease of Use
Website builders are designed to be user-friendly, even for those without technical skills. They come with drag-and-drop editors, pre-designed templates, and intuitive interfaces that make the website creation process accessible to anyone. You don't need to learn how to code or hire a designer to get started.
3. Speed and Efficiency
With a website builder, you can have your website up and running in a matter of hours or days. The pre-built templates and built-in features streamline the development process, allowing you to focus on content creation and customization rather than coding and technical details.
4. No Maintenance Hassles
Maintaining a website can be a time-consuming task. When you use a website builder, the hosting and technical aspects are usually taken care of by the platform provider. This means you won't have to worry about server updates, security patches, or other maintenance issues.
5. Scalability
Website builders often offer scalability options, allowing you to start with a simple site and gradually add more features and content as your needs grow. This flexibility is especially valuable for businesses that anticipate future expansion.
The Case for Hiring a Web Developer
While website builders offer many advantages, there are situations where hiring a web developer makes more sense. Here are some scenarios in which working with a professional web developer is beneficial:
1. Customization and Unique Design
If you have a specific vision for your website and require a unique design or functionality that cannot be achieved with a website builder's templates and features, a web developer is the way to go. They can code a website from scratch, tailored to your exact needs.
2. Complex Features and Functionality
Websites with intricate features, such as online marketplaces, membership portals, or custom web applications, often require custom development. A skilled web developer can create and integrate these features seamlessly.
3. Optimized Performance and SEO
Web developers can optimize your website for performance and search engine optimization (SEO) better than most website builders. This can result in faster loading times, improved search engine rankings, and a better user experience.
4. Data Security and Privacy
For websites handling sensitive user data or transactions, security is paramount. Web developers can implement robust security measures and ensure compliance with data privacy regulations, such as GDPR or HIPAA.
5. Long-Term Support and Maintenance
If you anticipate the need for ongoing updates, maintenance, and technical support, a web developer can provide consistent, long-term assistance. This is especially important for businesses with evolving digital needs.
Making the Right Choice
conclusion
The decision to use a website builder or hire a web developer depends on your specific needs, budget, and goals. Here's a quick summary to help you make the right choice:
Choose a Website Builder If:

You have a limited budget.
You need a website quickly.
Your website's requirements are relatively straightforward.
You're comfortable using user-friendly, template-based tools.

Hire a Web Developer If:

You have a unique vision for your website's design and functionality.
Your website requires complex features or custom development.
You prioritize performance, security, and long-term support.
You're willing to invest in a customized, high-quality web presence.
Remember that the best approach may also involve a combination of both options. You can start with a website builder to establish your online presence quickly and then transition to a custom-coded website as your needs evolve. Whichever path you choose, the key is to ensure that your website effectively serves its purpose and aligns with your goals.
---
FAQ: Frequently Asked Questions
Is a website builder suitable for all types of websites?
Website builders are suitable for a wide range of websites, from personal blogs and portfolios to small business websites. However, for highly complex or customized projects, hiring a web developer may be a better choice.
Can I customize my website when using a website builder?
Yes, most website builders offer customization options. While they provide templates, you can modify these templates to suit your brand and style. You can often add custom elements and content as well.
Are there any limitations to using a website builder?
Website builders may have limitations in terms of design flexibility and functionality when compared to custom-coded websites. If you have very specific design or functionality requirements, hiring a web developer might be necessary.
Can I switch from a website builder to a custom-coded website later?
Yes, it's possible to migrate from a website builder to a custom-coded website. However, this process can be complex and may require the expertise of a web developer. It's essential to plan for such a transition if your website's needs evolve.
What are some popular website builders?
Some popular website builders include Wix, Weebly, Squarespace, WordPress (with the Gutenberg editor), and Shopify (for e-commerce). Each of these platforms has its unique features and strengths, so it's essential to choose one that aligns with your specific requirements.